ARM Formal Benefit Gala
"This year was the first year I have been involved with ARM, helping them to edit and produce their marketing materials. I met Sandy and Bobby Darvish through a close friend who is the godfather to their infant son, Alexander. To say how impressed I am at the fine people they are is truly an understatement. What they and Danny and Sheila Darvish have done to create ARM and start the journey to a cure for HIBM is truly amazing.
When I attended the gala, "Touching Tomorrow - A Cure Within Reach", it was impressive to see a ballroom filled with over 500 people, all supporting the advancement of research for this little-known disease. I found out this was ARM's first international event, with people attending from all over the globe. I also learned that this was the first time patients with HIBM had come to a gala and seeing these bright, talented, beautiful people in all stages of the disease truly touched my heart. Along with the wonderful new media kit that highlighted some of the patients, there was an accompanying video that had interviews with these patients as well. I felt like I knew them after I saw the video and I embraced their faith that a cure is conceivable in the not-too-distant future.
What I have experienced, along with the hope and dedication of the Darvish family and patients, is a movement towards a cure that is growing in depth and breadth. ARM reminds me of "the mouse that roared" - a small organization with a big purpose that is making a big noise in the community to get the word out that people with HIBM are not to be discounted. I applaud them for their efforts and I believe that their new marketing materials coupled with their commitment to find a cure will definitely improve the visibility of ARM in the community and help them raise the necessary funds to continue with their research."
Nancy Cohen Kram
President
Kram Communications

---
ARM Formal Benefit Gala 2008
"Touching Tomorrow - A Cure Within Reach"
Sunday, March 16, 2008 @ 6p.m.
Introducing the Future of ARM w/ Dinner and Live Entertainment
Where: Marriott Los Angeles Airport, Marquis Ballroom
5855 West Century Boulevard, Los Angeles, CA, 90045
Cocktail Attire/Kosher Catering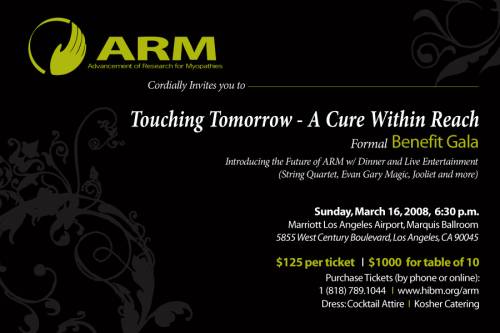 ---