Fundraising Projects
Support ARM by purchasing the Allumonde Charity Ring.
Are you looking for an original present this holiday season? Consider the design rings of Design21. These beautiful rings are designed to support non-profit organizations. Each purchased ring gives 19% of the proceeds directly to ARM, 2% will go to UNESCO. Whether they're for wearing or sharing, these rings make great gifts for anyone and any occasion.
( Yes, I want to support and purchase an Allumonde Charity Ring!)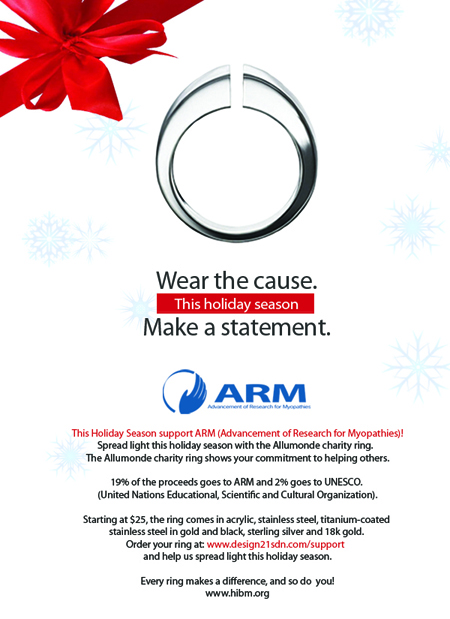 Spread light this holiday season with the Allumonde charity ring.
The Allumonde charity ring shows your commitment to helping others. 19% of the proceeds goes to the charity of your choice and 2% goes to UNESCO. (United Nations Educational, Scientific and Cultural Organization).
Starting at $25, the ring comes in acrylic, stainless steel, titanium-coated stainless steel in gold and black, sterling silver and 18k gold.
Order your ring at www.design21sdn.com/support
and help us spread light this holiday season.
Every ring makes a difference!
For details or to order now Click Here!

If you are not comfortable purchasing a ring online, you can order your ring over the phone by calling +1-212-956-4438 ext. 113.
It is Easy:
1.Click on Link
2. Selct your ring
3. Select your ring size
4. Select ARM as your non-profit choice
5. Check out!